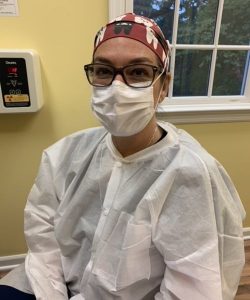 Dr. Jacqueline Reid started working at a dental office at the age of 15. She says that it was this early work experience that made her the person she is today. Dr. Reid counts her dental degree as one of the most important life choices she has ever made, and she thoroughly enjoys all aspects of dentistry. She considers herself fortunate to have such a fulfilling career (pun intended!).
Dr. Reid has been practicing in Chatham for over 25 years. She believes that Chatham is such a wonderful town to have a practice, and she thinks of all of our patients as family. Dr. Reid graduated from Case Western Reserve University School of Dental Medicine in 1996, and she then went on to complete a hospital-based general practice residency at Robert Wood Johnson University Hospital in New Brunswick, New Jersey. In 2004, Dr. Reid was appointed director of the same program and the chief of hospital dentistry at Robert Wood Johnson. She is responsible for the educational program of the dental residents, as well as the administrative demands of the program. What Dr. Reid enjoys most about her position as director is teaching and taking care of disabled patients' dental needs in the operating room.
After the tragic events of September 11, Dr. Reid became interested in using her dental degree to serve the community with forensic dentistry. In 2006, Dr. Reid completed a 14-month fellowship in forensic odontology (forensic dentistry) at the University of Texas Health Science Center in San Antonio. She became board certified in forensic odontology in 2012. Dr. Reid works with several medical examiners' offices to aid in the identification of victims for families, and she also assists law enforcement in various other forensic dental cases, including identification, dental age estimation, bitemark analysis, abuse, malpractice and standard of care, dental fraud and dental workers' compensation. Dr. Reid teaches at Rutgers Dental School in forensic odontology and is a member of the regional mass disaster team. She is a member of the American Academy of Forensic Science (AAFS) and the current secretary of the American Society of Forensic Odontology (ASFO). She is also a member of the American Academy of General Dentistry (AGD) and the American Dental Association® (ADA) and is currently on the executive committee of the American Board of Forensic Dentistry (ABFO), which she is in line to be President of in 2023.
When not at the office, Dr. Reid enjoys spending time with her two daughters.
Dr. Sandra Deklich has been practicing in the area since 2005 after receiving her undergraduate degree from Stony Brook University and her dental degree in 2005 from the University of Medicine and Dentistry of New Jersey. She completed her residency at Newark Beth Israel Medical Center and regularly attends continuing education classes to expand her knowledge in the field. Her goal as a dentist is to make sure patients' needs are met and help them feel comfortable during procedures and happy when they leave. She always aims to gain the trust and confidence of all of her patients. Dr. Deklich loves what she does and is so grateful to be part of a profession where she gets to have close relationships with so many people.
In her spare time, Dr. Deklich loves being outdoors, hiking and biking with her family. She also loves to bake and try new recipes!
Meet Our Team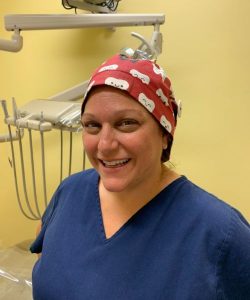 Dina graduated from Bergen Community College in 1993 with her Associate of Applied Science degree. She joined our practice in 2004 and is thankful to be a part of this office! She loves how well our team works with each other and appreciates how long we have all been together. She feels that our patients are like extended family and she takes great care to make sure everyone is educated on oral health and how to maintain both healthy bodies and mouths.
Outside of the office, Dina makes jewelry and loves sharing it at festivals and craft shows.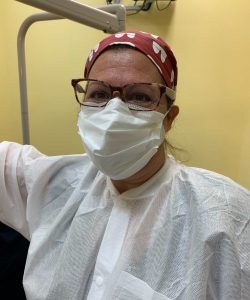 "The camaraderie in the office is unlike anywhere else I've worked." – Lisa
Lisa has over 20 years of experience in the dental field, including an X-ray license. She worked for four other dentists prior to joining our team in 2010, but her working relationship with our dentists is so excellent that they can often communicate without even speaking! She loves joking around with Dr. Reid and building strong relationships with all of her patients.
Lisa has been married since 1983 and has three children and two grandsons. She enjoys cooking for her family, playing cards and traveling.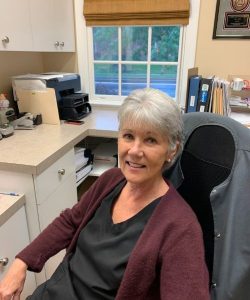 Barbara has the "longest relationship" with our practice and has provided continuity to the office for decades, having joined our team in 1997 as a dental assistant! She became our office manager in 2004 and is the backbone and heart of the practice as she facilitates interactions between patients and team members, including enhancing patient relations, booking appointments, handling payments, greeting patients, filing insurance claims and keeping the team in line. Barbara has become friends with most of our long-term patients, and we all find her no-nonsense style very endearing!
Barbara's education and background include an X-ray license and a position as a chief X-ray tech at Riverview Med Center in Redbank from 1980 to 1986. She has two adult children and two grandsons, whom she adores.